Current coupons for Scholtes Auto World in Worthington, MN (map). We have excellent customer service in our sales, maintenance, parts, auto body, glass repair and accessories. Stop at our dealership today to see the Scholtes Auto World experience.
2 Coupons Available
---
Customer Referal Program
$100 Voucher & FREE Oil Change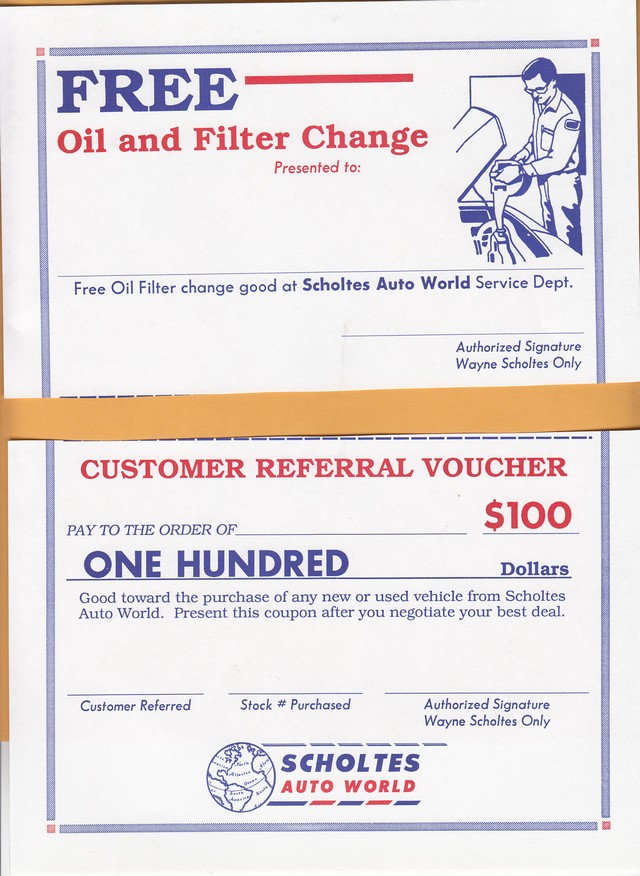 ---
CUSTOMER REFERRAL VOUCHER
When you refer a new customer to us and we sell them a vehicle,
LET us Know !

We'd be glad to give you a free oil change/service coupon and
a $100 certificate off of any future vehicle purchase.

*SEE your sales rep for details - can not be printed online
SEE your Sales Rep for a Validated Voucher - can not be printed online.
Valid: 3/3/2015 - 3/31/2020
Scholtes Auto World FREE GAS
FREE
Scholtes Auto World
FREE GAS CERTIFICATE

Print, Bring or Show this certificate when visiting our dealership,
IT'S THAT SIMPLE.
We'll pay you for the fuel needed to get here and back home*.
Please call ahead to make sure the vehicle you are interested in is still available. WE ARE CONFIDENT that our vehicles are worth the drive, so please take advantage of this unique offer.
* Based on 25 miles per gallon, up to $3.00 per gallon and a Maximum of $50.

NO purchase required. call to make sure vehicle is available to test drive.
Valid: 11/17/2014 - 12/31/2017